12th Fret Guitar shop
"From time to time, we get to see new and innovative designs that refer to much older ideas. This Shellback Baritone Ukulele from Rootworks is such an item. This fascinating instruments draws from the Fibonacci sequence, the shape of half a Nautilus shell, created using Cherry veneer with a Red Cedar top.
Several other woods are used as well – Mahogany for the neck, Katalox for the fingerboard, Maple and Walnut for the bridge, Ebony for the nut, and there's a Carbon Fibre neck reinforcement. To top it all off, a K&K Big Island pickup is installed.
Ray's Rootworks operates out of Peterborough, Ontario, and is run by Ray Vincent and Susan Halle. They make a number of different instruments including ukuleles, the 4- or 5-string Root and a lap harp, many using the half-shell outline. These are fascinating, innovative and very well made."
"Ray Vincent and Susan Halle operate Ray's Rootworks out of their shop in Peterborough, Ontario, and produce some of the most innovative yet playable instruments we've seen.
This Shellback Mandolin uses a surprisingly wide range of materials. The top is nicely figured Redwood, and the shellback – based on the Fibonacci spiral found naturally in many shells – is made of Cherry veneer with a Spruce center point. The side rims are Maple, with Wenge, Ebony and Spanish Cedar for the neck joint. The neck itself is birds-eye maple with a Padouk center strip and Ebony for the fingerboard. The non-adjustable truss rod is carbon fibre. Aside from the copper side dots, the fingerboard inlays are Walnut, the headstock is Cherry, Wenge and Ebony, and the side panel is Ebony. The bridge is Ebony, and the tailpiece is made from Ebony, Mahogany, and Wenge. The nut is Buffalo Bone. The finish is hand-applied oil.
The fretwire used is Evo Gold, and a dual piezo pickup system is installed. Tuning gears are vintage style, with a 15:1 ratio.
This is an extremely distinctive instrument. It's very well made and fully usable – it does happen sometimes that in a search for innovative design, builders sacrifice or obstruct function. That's not the case here.
Tonally, this mandolin tends more towards the sound of oval-hole instruments, rather than F-holes. This is a warmer, rounder tone more commonly used in Celtic or other European styles, as opposed to the bright, crisp tones used in Bluegrass. Acoustically, it is quite loud compared to other traditional body designs."
Lalabug design hat with Rays Rootworks shellback mandolin.
dennis.jpg
Todd
Todd with bud.jpg
Meredith Moon
Su-playing-sprout.jpg
Jesse
With the Root, his future instrument.
Jesse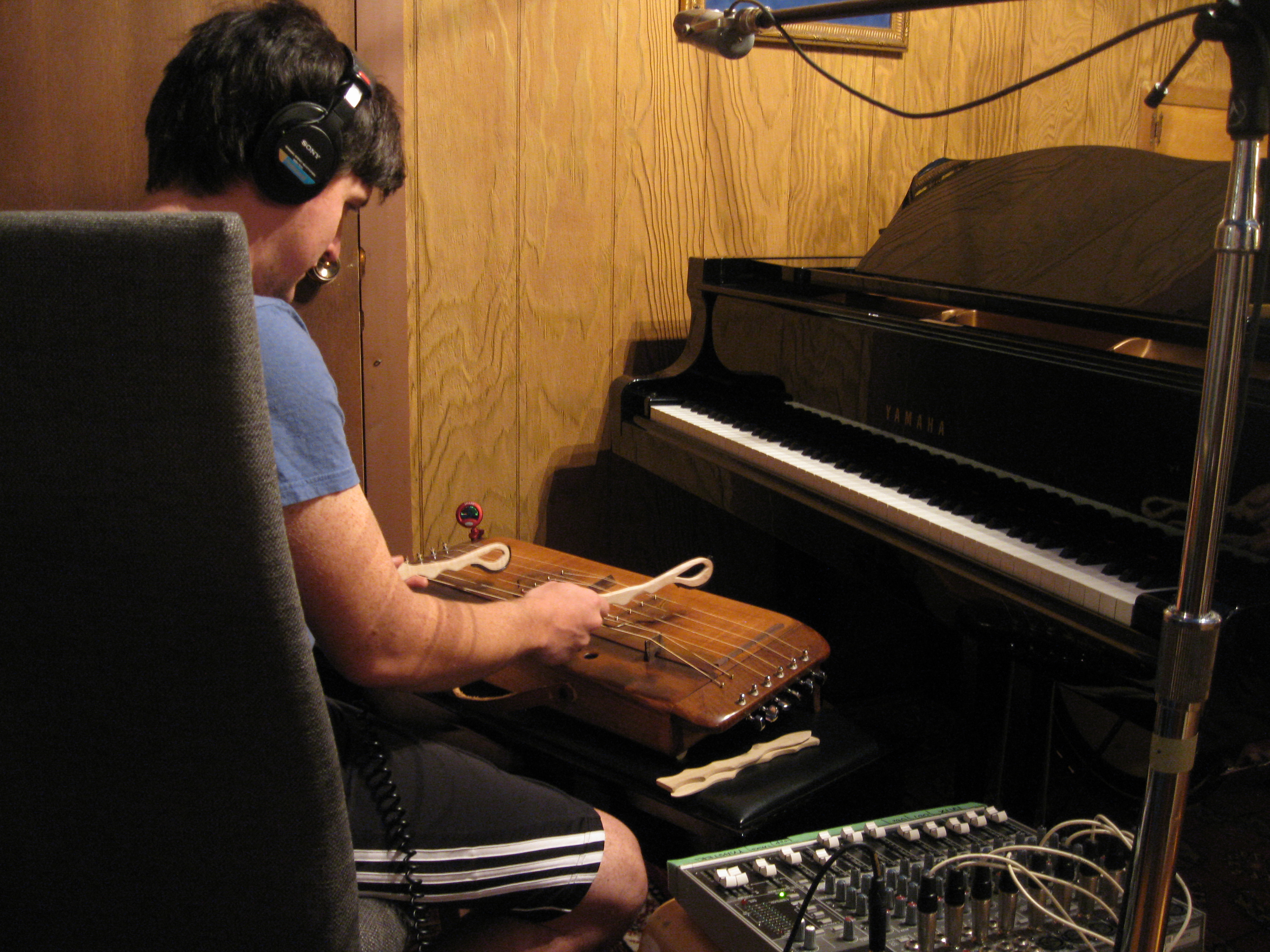 Kown Shaman geoparadise.jpg
Kali.jpg
ancient-order-jason.jpg
todd-1.jpg
At Mariposa folkfest
Emily recording her album
me-live
geoparadise.jpg
Jonnie.jpg
Meredith Moon
Kown Shaman geoparadise.jpg
Todd
ancient-order-jason.jpg
At Mariposa folkfest
Emily recording her album
me-live
geoparadise.jpg
ÈRay, The mandolin arrived today and I can't tell you how much I love it. It is a beautiful work of art, and I will give it a good home.
I opened it with my friend who is a wonderful musician, and we got to take turns playing it and listening to it being played. It has amazing volume all by itself. But we also were able to plug it in and try out the electronics, and both of us are so impressed with the sound quality! The tuning stays great all the way up the neck, the harmonics are beautiful at the seventh and 12th frets, and it is also just plain easy to play! The neck length is perfect. And I'm so glad we just went with the four strings instead of eight. Makes it so easy on my fingers and I can see myself getting into some fingerpicking in the near future. I've already told everybody about it, now I can't wait to play it for them all and let them play it too!
Thank you again for all your time, talents, and attention to detail." (Connie 2020)
I couldn't believe how great it sounds! I stayed up late playing it. From your photos, I knew it would be a beautiful piece of art; but the tone just blew me away too. I'm glad I did low G and I really like the strings. Thank you so much! I love everything about it!
Not only do you create wonderful art, you also provide a great customer experience. You offered valuable input in the initial process of choosing options, kept me updated throughout the build, provided photos that allowed me to follow along as you built it, and shipped it in a manner that provided great protection. First class!!
All the best,
Carl (2018)
"I am in absolute Adoration of my sprout. Working with Ray has been truly delightful. I would definitely collect one of each of his stunning and breathtakingly beautiful Handcrafted Creations. As a sound healer I have a true appreciation for the resonance and quality of this instrument" Ananda
"Looks and feels great, and is so fascinating as an object besides its lovely sound. Its been a while since I was in music so I'm still reteaching myself a few things and developing a technique for playing but its been so fun and restful. Ray was super helpful and quick to answer when I had several questions before purchase, and the Sprout itself came with further instructions, tips, and a full set of extra replacement strings. Over all a beautiful thing and experience."
"Beautiful instrument; beautiful tone. Excellent communication; questions promptly answered. Well packed; shipped on time; arrived in time for the holiday. Thank you for your talent and service, Ray."-Laura
"This instrument is amazing. It sounds beautiful, it looks beautiful, and Ray is so kind and willing to customize. This instrument seems sensitive to temperature change, but is easy to tune. As a music therapist I have shared this instruments with patients in live music meditation groups and in improvisational music making. People love everything about the sprout, and so do I. Anyone can enjoy playing this instrument! Thank you, Ray!"
"Playing that instrument will connect me to your artistry and provide me a chance to steer others to your musical creations. I hope to play it in a big gig this Thursday evening and will try some effects with it later today."
"This is a fine piece of craftsmanship I was so impressed. The high quality design, material, and the love and care Ray put into building this shows all over. The proof is in the sound....celestial. Thank you Ray, you are a master."
Etsy customer.
5 string Root March 12 2015
"Ray....it is arrived...can't tell you my condition....a mixture of excitement and dizziness... beyond words... far beyond my expectations... simply extraordinary...
It's not easy to play at all, it feels like I have to learn even how to keep the instrument, but the sound is absolutely magic...!!!!
It will take me a while to get out something "listenable" but the trip is already begun, and it will be a fantastic adventure....
Thank you Ray, you made me happy.....thank you thank you...."
Hugs,
"A beautifully constructed and great sounding instrument. Custom built in the time frame promised. Exceeded my expectations." -Jeff
"I recently purchased a mandola from Ray. Have to admit, I've never played any instruments in the mando-family prior to receiving this mandola, (I play cello and percussion) so I really had no idea what to expect. However, I am really pleased with the end results. It seems to be set-up nicely, the fretboard feels good to play on, it holds it's tune quite well, it's certainly not difficult to pull a nice tone out of it. Of course, it looks gorgeous as well. Something that doesn't fully get conveyed in the videos is just how full bodied the shell-backed instruments are capable of sounding in person."
"The instrument is beautiful, balanced, a joy to hold and to play. Its sound is gorgeous, rich and resonant... I am so in love. I want one of everything Ray makes. These are good Medicine. The best. Thank you so much!!! "
"I have tuned the strings slowly .... try to play ! I could not believe my ears it was like is was amplified by a music amplifyer ! This instrument has twice the power compared to the one I have (a copy of F5 Gibson f holes marple back and sides and spruce top). I love every detail like the coper points along the fingerboard, the black cover for the screws ( another surprise) and all the rest I had already seen, the dragonfly, the green spots on the board, the tuners, the softness everywhere. the silky varnish, the 2 picks. The size is perfect for a good hard bag I have for mandolins !
It's amazing ! It is as well very easy and confortable to play that was another surprise, i was prepared to have to ajust for a time to get used to it but i am at ease right away."
Just face the music Ray, this mandolin is perfect, easy and has a powerfull sound.
You did an amazing job, Ray, I am so grateful for all the care you took in making this instrument for me. I rejoice in music ... for your sake!! and wish you a joyfull time for the end of the year feasts.
THANK YOU with all my heart"
Christella of Switzerland
"Ray was great work with and created a beautiful and amazing sounding mando for me. I was able to be involved and have some creative input. If you are considering having Ray build you an instrument you have made a great choice. Thanks again Ray, I love it!
Peace "
"This Mandolin made my musician's Christmas! He was speechless! The craftsmanship is beautiful and the sound superb. The customer service and delivery couldn't have been better.Thank you." -Angela
"Hey, Just wanted to say how much I appreciate the mandolin you made. The sustain is great. Its a better instrument than the fender I had years ago." -Jesse
Steven Frye after receiving the Root 6th.
"Arrived today and I love it!! I have always noticed the esoteric/offset sound hole guitars to usually have a pronounced volume when played acoustically that skews to top or bottom, but I haven't noticed that at all. I was prepared for less of a full tone then she really can produce!!
Just awesome!! You are the king!!"
"I could not be happier with the guitar. Ray kept his word of creating something special. I had high expectations and they were all met. Service was great and shipping went fast and smooth. Thanks Ray"
Jonnie- Root 6
"Ray is an absolute wonder! He custom-created a beautiful, gorgeous new instrument that came straight from my dreams. It recently arrived and I couldn't be more excited, more proud. Thank you so much for your artistry, Ray!"
From Etsy.
" Ray Vincent instruments combine the craftsmanship of an old world luthier with the artistry of a new world nature photographer. A visit to his musical instrument emporium will open your eyes and mind to new shapes and designs of both familiar and exotic, mostly string, instruments. His "bud" fits ergonomically in your hands and indeed suggests the shape of a new plant budding in spring. I restrung mine with tenor guitar strings and tuned it up a step to DAEB. Perfect for fiddle jams and personal play. I look forward to Ray's future creations, including a Tres Cubano, I've commissioned for Todd's Musical Petting Zoo." -Todd Crowley, Custodian of Todd's Musical Petting Zoo.
"just received my ukulele
WOW, EVEN NICER THAN I IMAGINED!!!!
WHAT A SOUND, SO RICH & MELO
You did an absolutely beautiful job, I am very pleased with the quality and sound
Thank you ever so much!
Regards Fred"
"The ukulele is fantastic and shipped just as promised"
Colin
"This is a beautiful instrument. The craftsmanship is first rate, and so is the sound. The seller kept to the promised timeframe and kept me informed of the progress on my use. A great experience, I would do it again."
Ed
​
"This turned out to be the Most AMAZING gift, he was beyond speechless! Not only a beautiful instrument, but an unbelievable piece of art! Thank You So Much!"
​
"I got this beautiful instrument as an early Christmas present for my husband and couldn't wait to give it to him right away. He is absolutely thrilled and loves experimenting with it. Needless to say, I try my hand at it too. The mesmerising music from this instrument is such a lovely addition to our home. Thank you, Ray for your beautiful handiwork."
​
"Great person to work with! I had a custom harp made and RaysRootworks was willing to answer any questions or requests I had no matter how silly or ignorant it sounded! Great communication thru the entire process of the custom design to having it shipped to my door! Recommend these instruments to anyone and they play lovely!"
​
"Gorgeous instrument to the eyes and to the ears. Fantastic etsy seller: exceptional customer service, perfect transaction. I highly recommend Rootworks for a handmade instrument built with artful perfection and good intention. AAA+++ Thank you." -Cynthia
Quote from customer who bought the Sprout.
"The Sprout, by Ray's Rootworks, is an amazing instrument both to look at and to play. The uniqueness of its design is matched by the richness of its sound. Best of all, it is SO easy and fun to play. With a major pentatonic tuning this instrument can make anyone successful at making beautiful music. The Sprout's tones are rich and warm with really good projection and sustain. Even random plucking produces cool sounding pieces. Having the body of the Sprout next to my chest also allows the vibrations of the strings to penetrate my body; connecting me to the instrument and making it easy for me to relax while playing.As a professional who uses active music making to help people boost wellbeing and relieve stress, I appreciate accessibility in the instruments I use. Instruments that sound great and can be easily learned are a huge benefit to me as it allows for immediate participant success, which, in turn fosters confidence and self-esteem. I will use this instrument to promote relaxation among well and unwell elders, at risk youth, health care professionals and other groups I regularly work with. Participants in my programs will really enjoy hearing me play the Sprout during a softer part of the program. They will enjoy it even more when I can hand the instrument to them and empower them to also make beautiful music.Ray's Rootworks also provides fantastic support and customer service. How often can you talk directly to the artist and craftsman making your instruments?!"
Jonathan MurrayDrum Circle FacilitatorFunDrum Rhythm CirclesColumbia, MD